Thank you for a great RE+ 2023!
Be a Game Changer
Together, for our future energy
SMA America and 40,000 of the industry's brightest attended RE+ 2023 at the Venetian Convention and Expo Center in Las Vegas. The event, held from September 10th to September 12th, was a resounding success, attracting industry leaders, innovators and enthusiasts from around the world. This gathering served as a powerful testament to the global commitment to a sustainable energy future. From groundbreaking technologies to insightful discussions, here's an SMA recap of key highlights from RE+ 2023.
SMA Recap of Key Highlights from RE+ 2023
3
special in-booth events
SMA Home Energy Solutions
Together, for 100% clean energy at home
SMA Home Energy Solutions combines innovative products, intelligent software systems and world-class service. Discover exciting new developments that will make generating and storing solar power more capable, flexible, and attainable than ever before.
Register to learn more
SMA Home Energy Solutions
Highlights and featured solutions
New: Introducing the Sunny Boy Smart Energy
The new, ground-breaking Sunny Boy Smart Energy hybrid inverter will enable both immediate energy use and storage in one single device, with an optional secure backup supply that will deliver greater electricity reliability. Featuring a completely new, modern design, the Sunny Boy Smart Energy is easy to install with simplified commissioning, while offering a capable, flexible solution that empowers homeowners to take control of their energy.

You can find out more about this innovative new hybrid inverter and the premier launch event at our booth at RE+.
Sneak Preview: SMA Backup Solutions
Initially launching with SMA Backup Secure, SMA Home Energy Solutions will offer up to 1,920W of backup with no battery required. This high-value, convenient, reliable backup provides homeowners with peace of mind from one simple-to-install package.

Starting in 2024, two additional backup options will come to market including Backup Select and Backup Home, which will offer homeowners and solar professionals flexibility and customization to build a total energy solution that's right for them.
Backup Secure

Backup Select

Backup Home
Technology: SMA Energy Meter
Know the home's energy use, and visualize electricity costs, generation and savings​ all from the new SMA Energy Meter and Energy App. From this single device, homeowners are given perspective on the efficiency of their home, allowing this insight to better control their energy consumption and energy decisions for the future.

Visit our booth to find out more about this little box that is compact, with an impact.
We invite you to stay up to date!
To get the most recent updates, product information and special event invitations please complete the form below.
Register
SMA Commercial Energy Solutions
Together, for carbon-neutral businesses
From cutting CO2 emissions to making it easier to budget for energy costs, SMA offers companies tailor-made solutions to achieve carbon neutrality and an independent energy supply.
Register to learn more
SMA Commercial Energy Solutions
Highlights and featured solutions
New: Sunny Tripower X commercial inverter
Learn about the latest in commercial solar energy generation and the new centerpiece of the proven SMA Commercial Energy Solutions, the Sunny Tripower X. As a comprehensive solution, the integrated System Manager enables complete energy management from one platform while combining state-of-the-art technology into one device. This functional design ensures small to medium-sized businesses can accommodate future energy management and needs.

Meet with our team of Application Engineers to see how this new commercial inverter will benefit your next project's needs.
Compliance: The UL3741 PV Hazard Control Solution
Learn from our team the new, simple, and safe way to meet rapid shutdown compliance without the use of expensive and complicated module-level power electronics (MLPE).

The Sunny Tripower CORE1 inverter was part of the first system to market that complies with Underwriters Laboratory (UL) 3741 Photovoltaic Hazard Control Systems (PVHCS) and National Electric Code (NEC) 690.12 rapid shutdown of PV Systems on buildings without MLPE or switches. These systems are inherently simpler, more cost-effective, and easier to install while offering lower operational risk.

Get your questions answered and learn more about this UL3741and see how this new hazard control solution can work for your next commercial rooftop PV array project.
Sneak Peek: SMA Commercial Storage
See for the first time how storing solar power and using it flexibly is made more efficient, with the new SMA Commercial Storage Solution. Coming to market in 2024, this complete solution will be a convenient, functional system with attractive yields that will give businesses the resources to help them become more carbon neutral.
SMA Large Scale Energy Solutions
Together, for cleaner and more stable utility grids
For feeding more clean energy into the utility grid and delivering a stable energy supply, our integrated power plant solutions with their grid-forming capabilities stabilize the utility grids running on renewable sources.
Click to learn more
SMA Large Scale Energy Solutions
Highlights and topics for the live sessions
SMA Large Scale Energy Solutions
The SMA Large Scale Energy Solutions stand for longevity, maximum performance, and top quality. Highly integrated solutions for PV power plants with varying system structures always provide the maximum flexibility in implementation and options for expansion. At RE+, you will discover the newest developments in the utility scale renewable market, from our team of SMA experts.
SMA Repowering
Open a whole new world when it comes to the power of your PV power plant, with cost-effective upgrade solutions ensuring maximum availability of your power plant over its entire life cycle:
Higher energy yields

Reduce operating costs

Increase investment security
Grid-Stabilizing Technology
SMA remains committed to delivering fundamental technology to provide ancillary grid services that provide generation capacity and support grid stability. This is the future of the energy sector and integrating renewables into pre-existing grids requires flexible and resilient solutions. With more than 40 years of experience working toward this goal, SMA is deeply committed to making each energy project a success story.

Learn more about the capabilities SMA enables grid stability for all types of energy projects across the country.
SMA Service
360° Professional Support for SMA Game Changers
SMA Online Service Center
24/7 support with Service issues
The SMA Online Service Center offers around-the-clock assistance such as step-by-step instructions, articles on specialist topics, online assembly replacement training videos and various other services. You can also contact our Service staff to obtain customized support.
360° Professional Support
Try out our apps for system design, energy management and monitoring.
SMA Energy App
Visualize your energy system at all times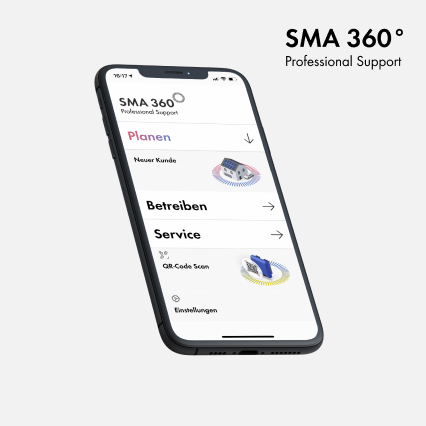 SMA 360°
The digital universal tool for solar power professionals
Coming Soon
Sunny Design
The planning tool for the professional design of all-in-one energy systems
Sunny Portal
The monitoring portal for PV system operators and solar power professionals
Give the gift of light and illuminate the futures of children experiencing energy poverty
Collaboration: Solar Buddy and SMA
SMA America was proud to feature a non-profit partner, Solar Buddy in the booth at RE+ 2023 in a direct effort to illuminate not just physical spaces, but also hearts and minds, with the awareness of a critical global issue: extreme energy poverty. Having the opportunity to amplify this message, and vision, helped unite the attendees together with the SMA team with one impactful goal in mind.
Learn more about the collaboration
SMA America in the media
The media's interest in SMA America at the RE+ tradeshow in Las Vegas was palpable. All major industry publications visited the booth to learn more about the latest innovations, partnerships and solutions. Before the show's kick off Solar Power World, Solar Builder and Alt Energy Magazine showcased previews of what SMA America was going to highlight at RE+. The Solar Power World article covered new Home and Commerical solutions in addition to the exciting partnership with SPAN. Two days before the show opened Solar Builder released a sneak preview of what SMA America would feature at the show, and Alt Energy Mag wrote a comprehensive digest of top features not to miss.
For more coverage check out the links below
Re+ Media Lounge
In addition to the pre and post event media coverage, multiple SMA leaders were featured on the SunCast media podcast, live from the Re+ Media Lounge. The Know Before You Go episode highlighted the SMA perspective and brought together tips and tricks to navigate the tradeshow. In the upcoming weeks check back for Team SMA to share more interviews from RE+ as they go live.
RE+ Know Before You Go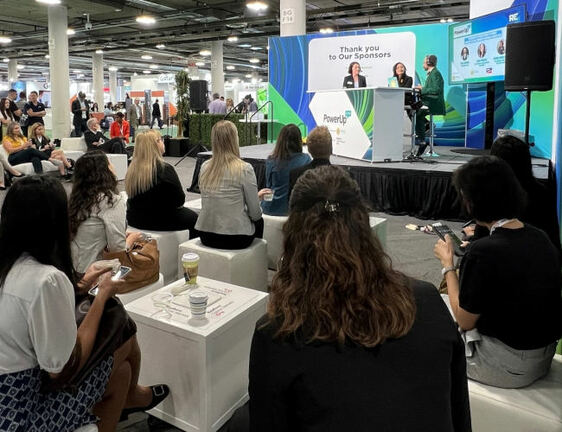 Job Fair at RE+
Thanks to all of you who joined us at the RE+ Clean Energy Job Fair at Caesars Forum last week in Las Vegas.
Our HR teammates were happy to share about how one company of 3,500 visionaries and innovators have come together under one shared passion: to develop the ideas and groundbreaking technologies for the energy of the future.
For those of you who didn't make it to the fair but are looking to join our team, feel free to review the wide range of career opportunities available, and how you can join the team that has the power to make a difference by visiting our website.
Learn more